Feeding your Horse - the basics of Horse Nutrition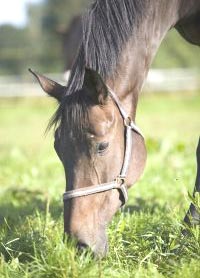 Good Horse Nutrition and feeding are fundamental to your horses health.
Traditionally horses and ponies were fed on grass, hay, oats, bran, flaked maize,and chaff, with perhaps the addition of boiled linseed, sugar beet or even Guinness for extra nutrition!
Today there are many choices of Horse Feed with specialised mixes for every type of horse from foals to veterans.
In addition to the basic horse feeds there is a bewildering choice of equine supplements and nutrition for horses which claim to cure every problem from calming excitable horses to increasing your horse or pony's joint flexibilty.
When feeding horses and ponies it is important to remember that they have delicate digestive systems, and the most natural food for a horse is good quality pasture. Horses are grazing animals with small stomachs designed to process small amounts of food almost continuously.
Forage feed (grass and hay) is necessary for the proper functioning of their digestive system as it is the horse's most natural diet.
A horse or pony usually consumes about 2% or more of their body weight in horse feed each day although amount of food your horse needs varies according to activity, age, breed, weather, quality of feed, quality of shelter, condition of teeth, etc.
Horses also need lots of drinking water and an adequate amount of salt and minerals.
When feeding ponies follow the same rules as for feeding horses.