Devils Claw - A Natural Anti-Inflammatory for Horses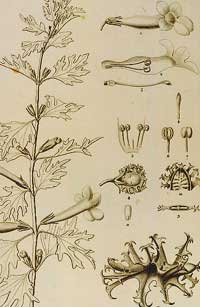 Devil's Claw is a useful natural herbal equine anti-inflammatory and analgesic for providing pain relief to horses and ponies and reducing inflammation in equine joints.
It been proven to be an effective replacement for phenylbutazone ('bute') and cortisone - with the added benefit of not having the side effects of these equine medicines.
Devil's Claw is particularly useful in providing pain relief to competition and sports horses and ponies as most preparations do not contain any banned substances.
But if you do compete with your horse or pony it would be wise to check with the controlling authories for the discipline that you compete in before giving any Devil's Claw preparations to your horse.
The name Devil's Claw refers to the hooked, claw-like seedpods of the shrub (Harpagophytum procumbens) from whose roots it is extracted.
Devil's Claw Root is recommended for horses and ponies that suffer from joint and muscular problems and is also used as a treatment to aid the healing of equine degenerative bone disease.
Equine joints take a lot of wear, tear and stress and sometimes need extra help. Horse owners who have used this herbal remedy have reported measurable improvement in their horse's joint and muscle movement.
It is important for the general well-being of an older horse or pony that it is kept regularly exercised as long as he is sound enough to do so.
Adding Devil's Claw as an equine feed supplement to a veteran horse's feed can help to relieve the general stiffness which is often evident as a horse or pony ages - sometimes it can be as effective as the prescribed medicines and injections to treat equine arthritis.
In tests the anti-inflammatory action of Devil's Claw has been found to be equal to that of steroids.
Devil's Claw has also been shown to have analgesic, sedative and diuretic properties on horses.
Devils Claw preparations can be added to your horse or pony's feed, or, if preferred, can be given by a dose syringe straight into the horses mouth.
The amount to dose can vary according the the strength of the supplement - so it is best to follow the manufacturer's recommendations for dosage.