Veteran Horses - Advice about care of the senior horse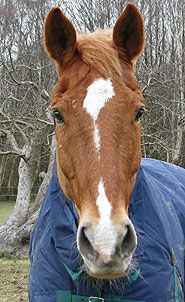 Like humans, horses and ponies are now generally living longer and we are seeing more active veteran horses than ever before.
A study has shown that a quarter of the UK'S equine population is aged 16 and over, with many horses competing at the age of twenty or older.
Many of us will know of veteran ponies in their twenties or even thirties.
The most important factors in this increased longevity are probably an improved diet and better health and veterinary care.
We know more about nutrition and pasture management and are more aware of common diseases and the importance of regular de worming regimes.
As a result of this knowledge our horses and ponies are benefitting from a longer and healthier life.
HOW OLD IS "OLD" FOR A VETERAN HORSE?
Horses are generally referred to as old when they are 16 or older.
However, horses do not become geriatrics and unable to thrive well just because they are over 16.
Horses get physically "old" at different ages. This depends on various factors including how it was fed as a foal and young horse, training and workload and healthcare throughout his life.
A horse's individual genetic make-up will also contribute to the rate at which he appears to become old.
It is probably more correct to label a horse "old" when it shows three or four signs of old age rather than when it reaches a certain age.