Electrolyte Supplements for Horses - prevent dehydration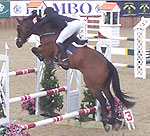 If your horse or pony has been working hard and is sweating after exercise he may need an isotonic solution of electrolytes to correct an imbalance and prevent dehydration.
This article gives advice on choosing and giving electrolyte supplements to your horse.
The use of an equine electrolyte supplement has the potential to improve a horse's performance, aid recovery after strenuous exercise and avoid dehydration.
Electrolytes or "salts" are minerals dissolved in the blood and tissues of the horse's body, which carry a negative or positive charge and bind with another ion to make a "salt".
When a horse sweats during exercise, or stressful activity such as travelling, he loses "salts" such as sodium, chloride and potassium.
These losses can be considerable, especially in hot weather and can cause tiredness, muscle stiffness, dehydration and equine colic.
Without the presence of electrolytes a horse's body cannot retain water so just offering water after exercise will not rehydrate your horse.
Electrolytes should be added to either the water or the feed of a dehydrated horse.
Sweating controls the body temperature of a horse during exercise - 90% of a horse's weight loss after exercise is due to sweating.
Poor equine performance can result if this weight loss is not monitored and the fluid and electrolyte losses replaced.
During normal exercise a 500kg horse can lose 10 litres of sweat during two hours - in hot conditions or during heavy work or competitions these can increase dramatically!